When viewing an asset's keywords in Image Manager, you might see some with red flags.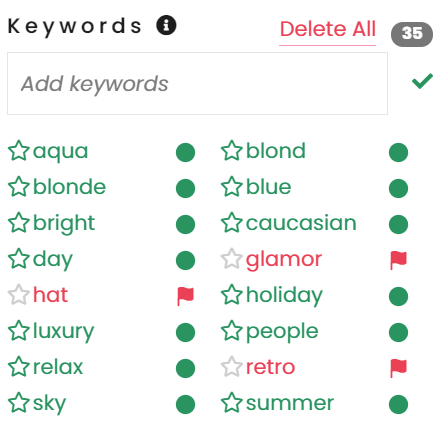 A red flag means that a staff member has flagged this keyword for investigation. You can find all of your assets with flagged keywords in the filter "flagged keywords."
Do Stocksy staff add or remove keywords?
If we investigate a flagged keyword and determine it to be irrelevant or redundant, we may remove it or replace it with a better option. We also add keywords when we notice important ones are missing.
Our actions are limited to cleanup and mentorship; ultimately, accurate keywording is each member's responsibility.
Do flagged keywords affect search placement?
Flags do not affect search placement; your content still appears in searches for those terms in the same order they would appear in if the keyword was not flagged.
Do I have to remove flagged keywords?
It always helps us out if you clean up your metadata. There's no penalty for not removing flagged keywords, but if an asset collects several flags, we might send it back for you to improve your metadata.
What if I disagree?
Sometimes flags can be added by mistake, and we usually catch these while reviewing. If you see a keyword flag you don't understand or agree with, you can reach out to Support and ask the Artist Relations team for feedback.
Before reaching out, take a close look at your active keywords. Not all flagged keywords are "wrong;" we also remove unnecessary, excessive, or repetitive keywords to help you keep your keyword list concise. For example:
Synonyms: When keywords are linked in our dictionary, you only need to add one keyword, and it will show up in all searches. e.g. if you see a flag for "Xmas," check to see if "Christmas" is an active keyword.
Redundancy: We occasionally flag and remove redundant terms, e.g. multiple versions of the same word (walk and walking).
Age/gender/ethnicity: These keywords are unnecessary because they are added automatically from the attached model release.