At Stocksy, we accept the following minimum bitrates depending on the video resolutions:
4K: 45,000 kb/s (45 Mb/s)
1080p: 25,000 kb/s (25 Mb/s)
We will accept higher bitrates, but not lower.
What is bitrate?
Bitrate in video measures the total amount of data encoded per second. High bitrates will result in a better-looking video. The best way to explain this is to check a clear blue sky in a video. If there is a "banding" gradation showing from deeper to lighter shades of blue, your video was probably encoded with a lower bitrate: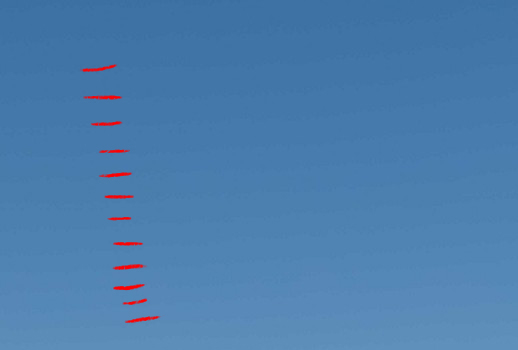 However, the trade-off is that higher bitrates will result in greater file size and longer upload/download time.
Export Settings
Depending on what NLE (video editing app) you are using, here are the settings you need to use:

DaVinci Resolve: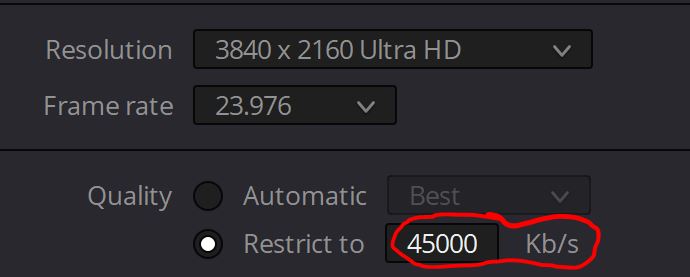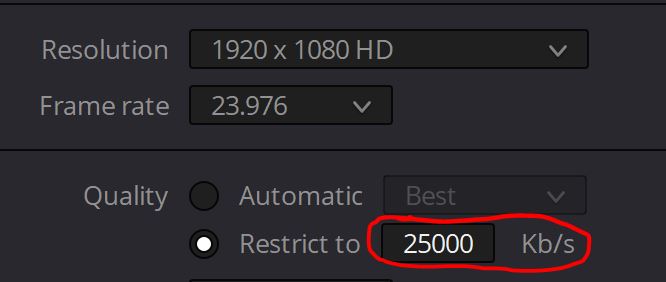 Premiere Pro:


How to Check Bitrates on Exported Videos
On Windows:
Open the folder containing the videos and select 'Details' from the View menu:
Right-click on the column header and select 'More':


Select 'Total bitrate' from the details list:


Your video folder will now list the total bitrate of the files in kbps:

To convert kb to Mb, divide the Kb value by 1000.
Example: 10,000 Kb = 10Mb
On Mac:
Open the video in Quicktime

From the Window menu select 'Show Movie Inspector' (Cmd + I):



The bitrate is displayed in the 'Data rate' field in Mbit/s.
MediaInfo App (Mac/PC)
Alternatively, you can install a free application (for PC and Mac) called MediaInfo which can be used to access the bitrate along with relevant technical and tag data for video: