Some contributors have had issues uploading h.264 (or h.265) footage from more recent versions of mobile devices, either directly from a mobile device or via a laptop or desktop machine.
The reason uploads from specific mobile devices are failing is that the latest h.264/265 compression encoding profiles on these devices default the video exports to a 10-bits/sample color depth profile instead of an 8-bit as on the older versions. As a result, the upload will fail since our systems cannot accept graded 10-bit h.264/265 footage.
You can identify compressed h.264 or h.265 10-bit footage in DaVinci Resolve (as well as in other video editors) as being tagged with the "Main 10" or "High 10" profile:


Compared that to the typical 8-bit h.264 footage which is tagged "High" profile:


We are currently looking into the option of allowing h264 (and h.265) 10-bit graded footage to be uploaded, but we don't have an ETA on when this will be possible.
The workaround is to open the footage in the video editor of your choice and export as h.264 8-bit deliverables.
Davinci Resolve
You can export as h.264 8-bit in DaVinci Resolve with the methods mentioned in our Delivery video tutorial.

Premiere Pro
In the latest version of Premiere Pro (2022), the h.264 export preset automatically sets the profile to "High10" which in turn will export h.264 10-bit files instead of 8-bit:


In this case, un-check the Profile checkbox and select the "High" option. This will output your h.264 files with an 8-bit depth suitable for Stocksy uploads: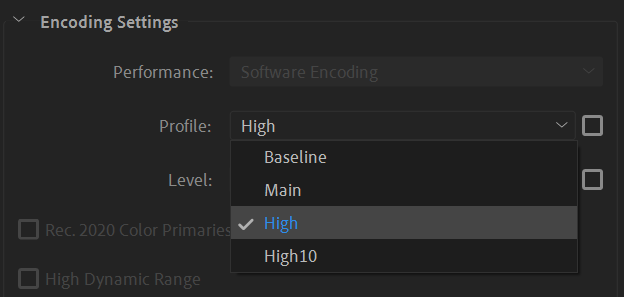 We hope this will help with your uploads and as always please let us know if we can assist you in any way.