You should add a minimum of 10 and no more than 50 keywords.
Keywords are comma-separated terms, like "alligator," "party," and "scream."
When adding keywords, describe what things are, not what they could be. The context must be visible or strongly implied for a keyword to be added.
Keywords must also be specific to the image or video and not copied and pasted across an entire series. For example, if there is only a laptop in 5 out of 10 assets, you should only add the keyword "laptop" to 5 out of 10 assets.
Start with descriptive keywords:
Who is in the photo or video

You don't need to add: gender, age, ethnicity, and the number of people in the shot; this information is automatically generated from the attached model releases
You should add: other descriptors of a subject (plus size, father, anonymous)

What is in the photo or video

Broad subjects (food, business, family)
Specific subjects (sandwich, cat, toothbrush)
Actions (eating, playing, typing)

When it is taking place (summer, night, New Year's Eve)
Where it was taken (indoors, forest, hair salon)
How it was taken (overhead, double exposure, timelapse)
Next, consider the implied keywords:
Concepts (togetherness, lifestyle, friendship)
Moods (happy, depressed, bored)
The most common mistake is trying to stretch the possible concepts that a photo or video expresses. If the context is not visible, leave it out.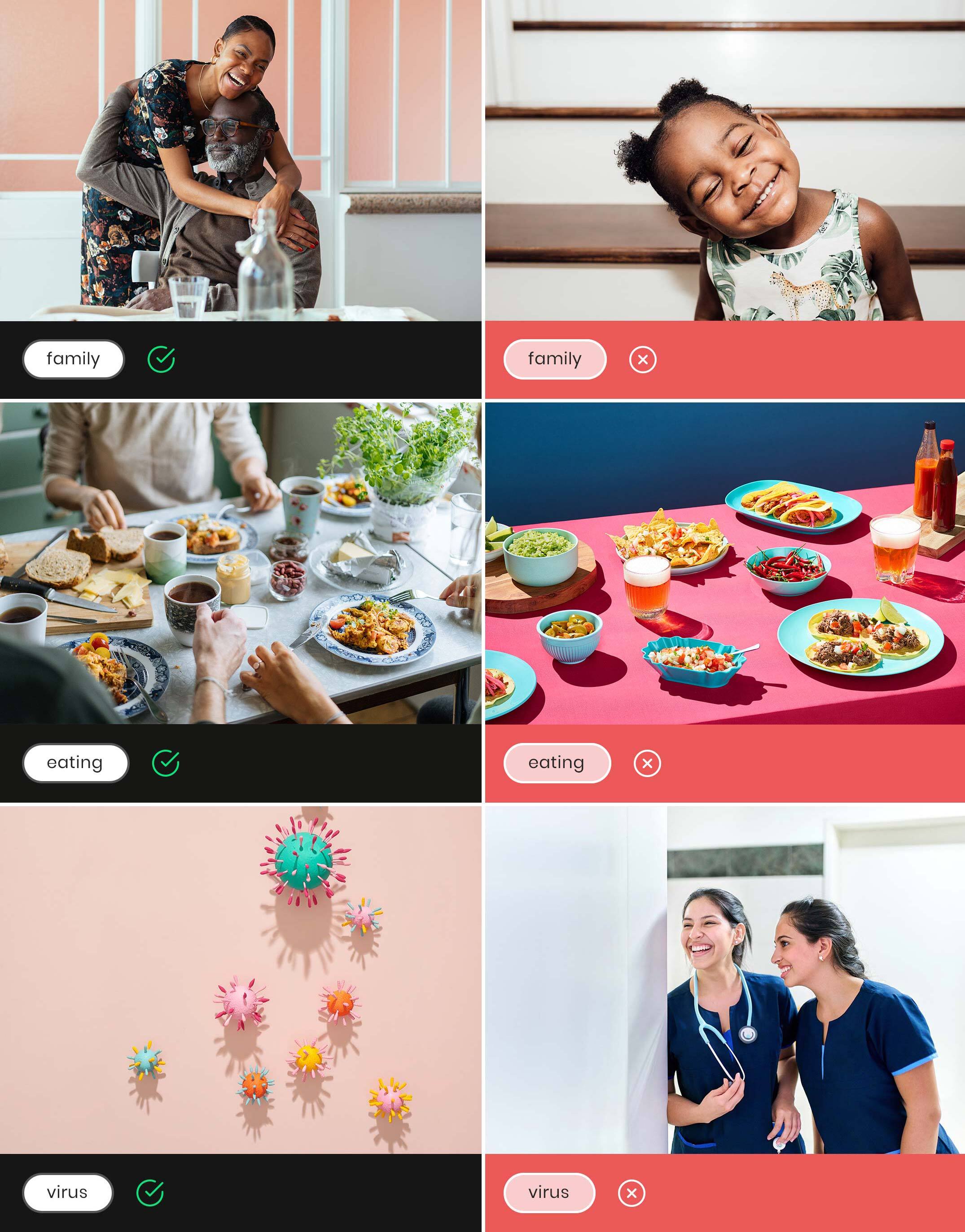 When should my keywording be done?
You can submit content without completed metadata if you do a preselect. However, you should finish keywording before your content goes live on the site.
We don't know when Google will index your new portfolio additions, and you should complete your metadata before we send to Adobe when it is published.
How do I select keyword definitions?
Some words could have multiple definitions. Telling our system which definition you meant allows you to unlock benefits, including appearing in more searches.
We use a Controlled Vocabulary (CV), a dictionary and thesaurus bundled together. You may also see the process of defining keywords referred to as "disambiguation."
When working in the Image Manager, your keywords will turn one of these colors:
Green: A definition is selected. No action is required. ✔️
Gray: There are multiple definitions available, and you need to pick one. ⚠️
Blue: There are no available synonyms in the CV. Your asset will show up in search results for this keyword.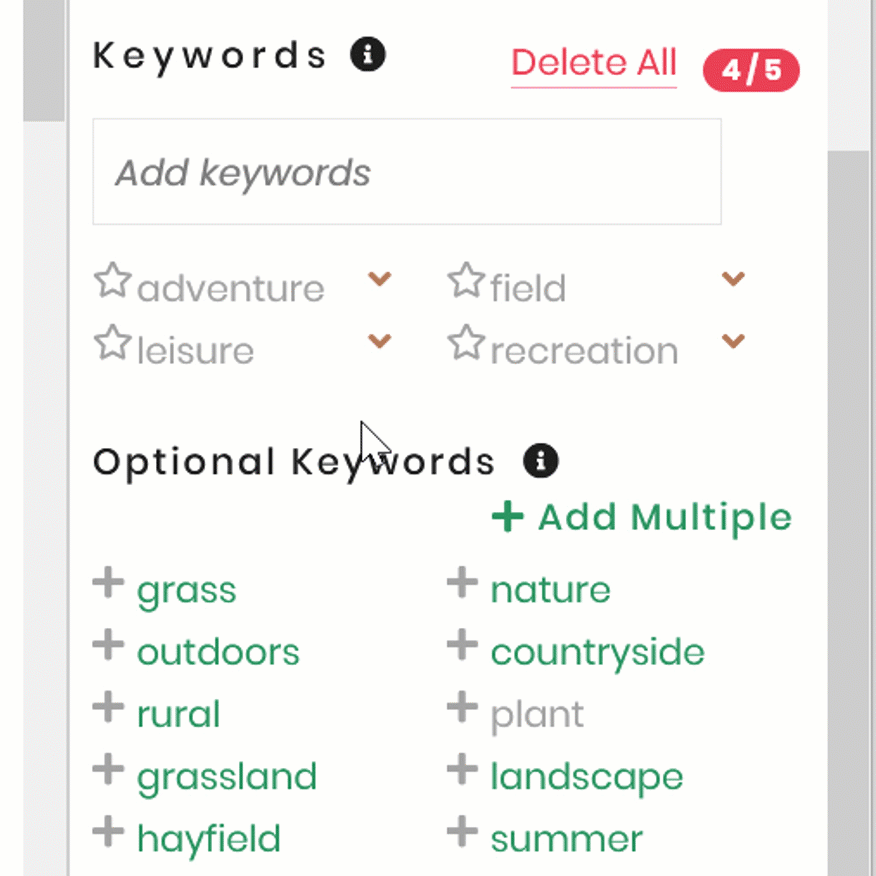 Synonyms
Synonyms allow clients to find your assets when searching for keywords or phrases you didn't enter directly. For example, if your content has the green keyword "business," the CV will automatically match it to words like "occupation," "job," "career," and "employment," so you don't have to add all these manually.
It also deals with regional spelling differences like "colour" vs. "color."
If you don't select a definition, your asset will appear in search results for the term you entered but won't appear in searches for the associated synonyms.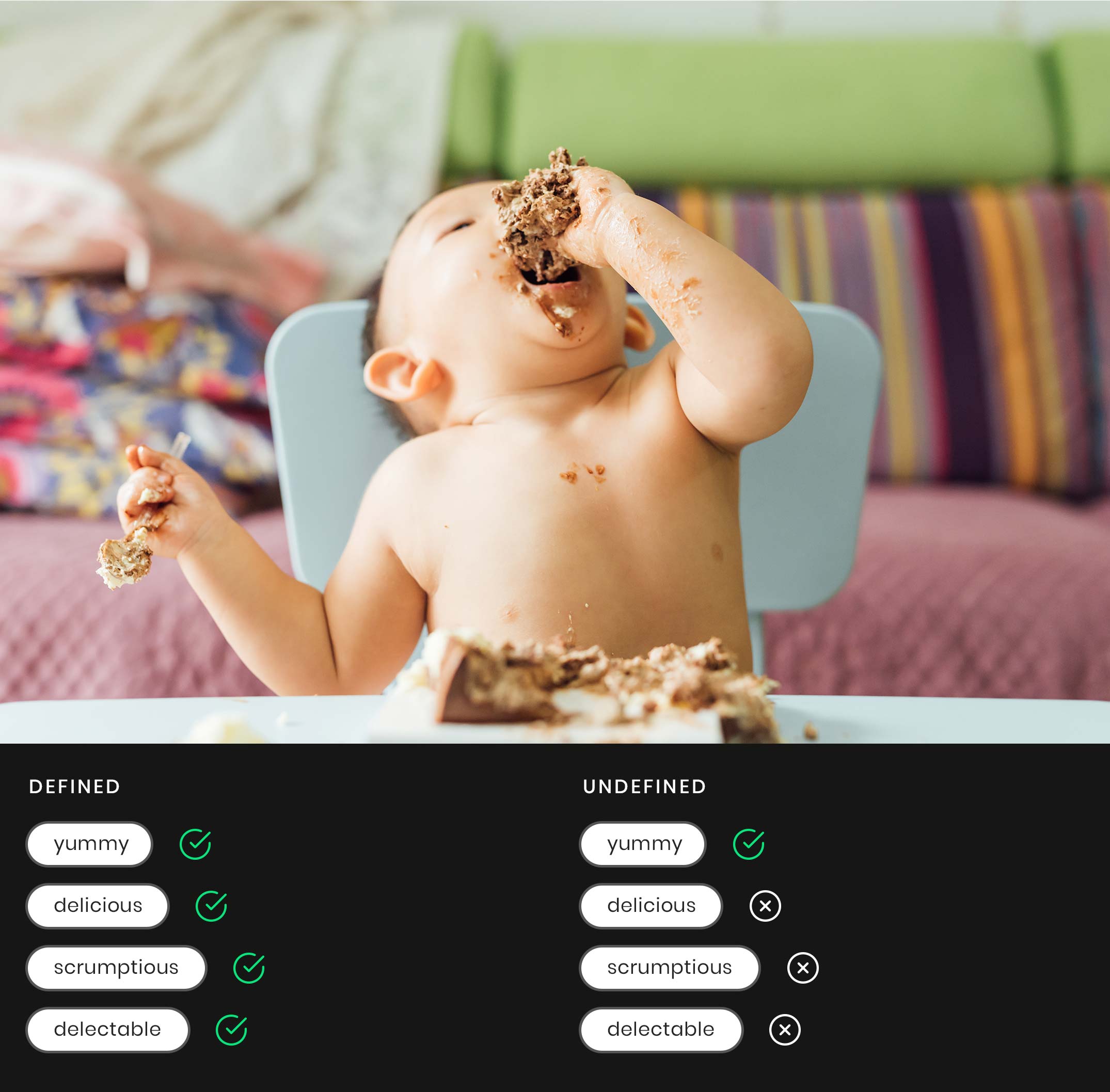 Blue Keywords
If you enter a keyword and it turns blue, it could mean one of two things:
We don't want you to add this as a keyword. Check and see if the term follows our keyword guidelines.
We haven't entered it yet. You can request that we add or remove definitions by contacting Support or posting in the Metadata Cleanup forum thread.
Stemming
Stemming is how our CV deals with verb conjugations and pluralization, using the root of a word and modifying the letters on the end. The CV will automatically recognize the verb "walk" as meaning "walks," "walked," and "walking," and a noun like "bird" also to mean "birds." Stemming means you don't need to add multiple versions of each term.
However, you still need to add separate verbs and nouns. For example, you may expect "dance" to also mean "dancer," but because "dancer" is a noun and not a verb, they both need to be entered separately.
Using Robokeywords
Underneath your keywords in Image Manager, you'll see a section called "Optional Keywords." You can add these one at a time, or in bulk by pressing "add multiple."
Be cautious: this is a machine learning tool and is not always accurate. Only add the suggestions that are relevant to your asset. We are looking to improve this tool in the future.
---
Keyword Ideas
Setting the Scene
You should always add location details when relevant or visible.
Where is it?
Country, province/territory, and city, if any location context is visible
Indoors or outdoors
Specific locations

e.g. home, park, restaurant, school, office, beach

Specific rooms

e.g. kitchen, closet, break room, office, garage

For studio work, use studio
What is the environment like?
Time of day (if you can tell)

e.g. day, night, morning, sunrise or sunset (not both), dusk

Lighting (if notable)

e.g. dark, sunlight, direct flash, natural light, hard or soft light (for studio work)
| | |
| --- | --- |
| indoors, restaurant, day | outdoors, ocean, day, sunny |
| indoors, home, kitchen, day, morning | outdoors, street, night, direct flash |
| studio, hard light | indoors, store, warehouse |